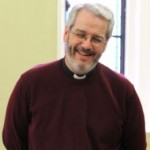 The Minister
The Revd Nigel Uden has been minister of Fulbourn URC since December 2010.
Trained at Manchester University and The Congregational College in Manchester he was ordained in 1984, and subsequently served in churches in Cheshire, South Africa and Lancashire, and from 2001-2010 as Moderator of the United Reformed Church's Southern Synod.
He takes services twice a month in Fulbourn: usually on the second Sunday morning of the month and almost always the evening service on the fourth Sunday
Nigel shares leadership and care of Fulbourn URC with four elders. Key decisions for the life and work of the church are taken by the Members' meeting which is held at least four times a year, usually after the morning service.
Nigel is also minister of Downing Place URC in the centre of Cambridge with which he spends the rest of his time.
Email: minister@urc.candf.org Tel no: 07904 527221
St Vigor's Parish Church
Fulbourn URC enjoys a warm relationship with St Vigor's church, sharing services several times a year, for example on Remembrance Sunday and the World Day of Prayer. Evening worship is held weekly in one of the churches, most often at St Vigor's but on the fourth Sunday of the month at the URC.
The Vicar, the Revd Alice Goodman, and Nigel Uden both share in leading Assemblies at Fulbourn Primary School, Alice and Nigel work very happily together in various ways, but not least when the school goes to St Vigor's for Harvest and Christmas services, and to the United Reformed Church just before Easter.